---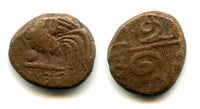 French rooster standing, holding sceptre, 1836 underneath / Tamil word புதுசசெரி (Putucaceri). Pondicherry mint. 17mm, 3.96 grams. KM-52; Krause C#141.
Very nice for these.
The French set up base along with the British in the 17th century. They occupied large parts of southern India. However subsequent wars with the British, led to the loss of almost all their territory. They however retained the colonies of Pondicherry -(Pondicherry, Karaikal, Yanam, and Mahé.) and Chandernagore. Pondicherry was ceded to India in 1950.