---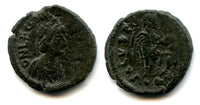 DN LEONI-S PFR AVG, Leo facing right / SALVS R-PVRLCA, Emperor standing right, holding standard and globe, treading down on a prostrate captive, CON in exergue. 20mm, 3.81 grams. Constantinople mint. RIC 664.
Extremely rare type - the only piece of RIC 664 we have ever handled.
These AE2's carry the mintmark of Constantinopolis, but were probably struck in elsewhere, possibly in Cherson. They are all rare - The small size of the whole issue is evident from the fairly small number of dies that were used. The coins can be conveniently divided into two different group - VIRTVS EXRCITI (always mis-spelled), and the second group with a reverse inscription SALVS REIPVBLICAE.