---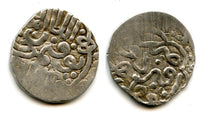 Sale
Al-Sultan Tokhtamish Khan kalad malkahu ("Sultan Tokhtamish Khan, may his rule last") / Zarb Qarm, no date ("Minted in Qarm"). 17mm, 1.39 grams. Mint of Qarm. Sagdeeva (2005) #393ff.
A number of different varieties of this type are known.
Tokhtamysh was the prominent khan of the White Horde, who briefly unified the White Horde and Blue Horde subdivisions of the Golden Horde into a single state.