---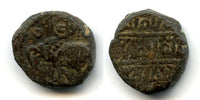 Elephant walking left, monogram, sun and moon above, additional lotus flower (?) over the head of the elephant / Kanarese legends, value "XX CASH". No date, issued in 1810-1820's. Very nice and attractive chunky and large coin. Scarce. 20mm in diameter, 9.30 grams. Krause C#177 var.
This variety with the additional flower over the head of the elephant is not listed in Krause.
Mysore is believed to have been established sometime in the eleventh century, and became the capital of a small kingdom around 1400, which was a tributary of the Vijayanagara empire until its fall in 1565. Shortly thereafter the Wodeyar family took control of the kingdom. From the seventeenth to the nineteenth centuries, the Woyedar capital alternated between Srirangapattana (Seringapatam) and Mysore. The Kingdom of Mysore grew to include most of the southern part of modern-day Karnataka. After the defeat of Tipu Sultan of Mysore in 1799, the British installed his nephew on the throne, and Mysore became a princely state in British India, and the capital was moved to Bangalore after 1834. The kingdom was acceded to India after its independence in 1947, and became Mysore state in 1950, which was later enlarged and its name changed to Karnataka.