---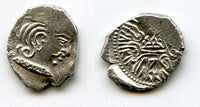 Sale
Bust of Rudrasimha right with collar showing, wearing a satrapal cap, date in Brahmi numerals behind bust (off flan), corrupt Greek inscription / Crescent on a hill over a wavy line, crescent in the left field and sun in the right field, Brahmi inscription RaJna MaHaKsaTraPaSa SvaMi SaTyaSiHaPuTraSa RaJna MaHaKsaTraPaSa SvaMi RuDraSiHaSa. 15mm, 2.08 grams. Rajgor "The Studies in the Coinage of the Western Kshatraps" #922ff; "The Silver Coinage of the Western Satraps in India" #38.2.
Rudrasimha III was the last of the Western Kshatrapa rulers. His Kingdom was slowly conquered by the Gupta Emperor Chandragupta during the period. If you are interested in this coinage, please check the brand new, very detailed and easy-to-use catalogue dealing with this coinage "The Silver Coinage of the Western Satraps in India": http://www.numismall.com/acc/Two-books-on-Western-Kshatrapa-coinage-as-one-lot.html
The Western Kshatrapas, or Western Satraps, (35-405 CE) were Saka rulers of the western and central part of India (Saurashtra and Malwa: modern Gujarat, Maharashtra, Rajasthan and Madhya Pradesh states). They were contemporaneous with the Kushans who ruled the northern part of the Indian subcontinent, and the Satavahana (Andhra) who ruled in Central India.