---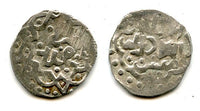 Sale
Al-Sultan al-adil Tokhtamish ("The Just Sultan Tokhtamish") within a scallopped cirle / Zarb fi balad (Qarm), no date ("Minted in the city (of Qarm)") within a complex double multifoil. 15mm, 1.19 grams. Mint of Qarm . Sagdeeva (2005) #390 var.
This is an unpublished type, omitting the title "Khan" on the reverse (which usually follows the name "Tokhtamish"). The only coin of this type I've seen.
Tokhtamysh was the prominent khan of the White Horde, who briefly unified the White Horde and Blue Horde subdivisions of the Golden Horde into a single state.