---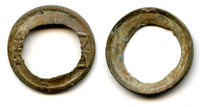 Two Chinese characters Wu Zhu (=5 Zhu), shallow outer rim / Blank, no rims. 26mm, 1.31 grams. Schjöth #304; Hartill 10.27.
The host coin is a scarce Eastern Han Wu Zhu with a bar on Wu.
These coins are the late Wu Zhu coins are called "Yan Huan Wu Zhu" ("Thread Ring Wu Zhu") because their center was removed (either to yield a Zao Bian (Chiselled Rim) Wu Zhu's. These coins are relatively scarce.