---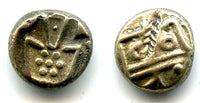 Degenerate Kali with the Tanjore rosette on the breast / Stylized and angular Ranga Rau, transormed into a decorated geometric design. 6mm, 0.34 grams. Tuticorin mint. Herrli #3.07.01; Krause KM #48 (150$ in XF).
Old test cut on the reverse (to see if the coin is solid gold or if it is plated)..
The Dutch VOC company received the right to strike fanams in Tuticorin from Tanjore. Krause dates these coins to ca.1785-1792. It seems that these coins were struck over a longer period of time, though. The coins are slightly debased, the purity of these coins seems to range from about 14 karats to 18 karats. Rare little coin!