---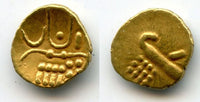 The normal abstract Boar / Lion type. 8.5mm, 0.35 grams. Calicut?. Herrli #1.23.60-1.23.62.
Rare type with a crescent in the left field on obverse.
This unknown type cannot be attributed to any known mint or issue, though (based on the general style), it probably originates in Calicut and probably dates to 17th-18th century. The type is published in Herrli, who also could not attribute it with any precision.