---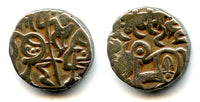 Horseman right, holding banner; Nagari Bhi in the upper left, Adl (?) in Arabic in the upper right / śri samanta deva in Nagari, recumbent zebu bull to left with symbol on rump; to left, star above pellet above crescent. Uncertain mint in Gandhara or northern Punjab. 15mm, 3.26 grams. Tye #32. SKU T1966-53001
Struck in fairly good silver, lightly toned.
Samanta Deva just meant "The Feudatory Chief" - it was the title assumed by the Kabul Shahi and their Islamic successors, and was probably not a personal name. Tye (p.37) states that these coins were the latest of the Shahi coinage, struck by the last of their Kings after their main territories were lost, in one of their last strongholds in northern India (Punjab or Gandhara) before these were lost to the Ghaznavids.
Unconditionally guaranteed to be authentic.