---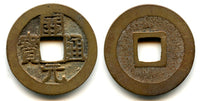 Four Chinese characters Kai Yuan Tong Bao (in Li script), broad rims / Blank. 25.5mm, 3.46 grams. Issued 961-978 AD. Schjoth #-; Hartill 15.101. SKU T1875-52562
These coins are distinguished from the Kai Yuan coins of the Tang dynasty by the large obverse rim and the shallow relief of the characters.
In the second year of Qiande (961), Southern Tang King Li Yu ascended the throne, and the resources of the country being exhausted, his minister Han Xizai obtained permission to cast coins. These were on the Kai Yuan model, but in seal writing devised by the scholar Xu Xuan. This coin was slightly larger than the old Kai Yuans, and had broader rims, and was found convenient by both the government and the people. 
This coin is unconditionally guaranteed to be authentic.