---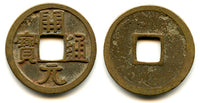 Four Chinese characters Kai Yuan Tong Bao (the jing component of Kai does not touch the hole) / Blank. 25mm, 3.08 grams. Issued in 621-718 AD. Schjoth #312ff; Hartill 14.1. SKU T1884-52561
With notches on the back - it seems in ancient times someone started making this coin into an amulet but did not finish it.
Despite all the research, we still do not know what the very first Kai Yuans were. The earliest of the known dated graves containing Kai Yuan coins is from AD 637 " the grave, as many other 7th century graves, contains only the large Kai Yuans which can be easily distinguished from all other Kai Yuans. They are almost always well-cast, of large size and show a very distinct calligraphy. The head on tong is large and nearly semi-circular, the left-shoulder on the yuan is barely noticeable, the dash on yuan is very short and the two dashes in bao are very short as well. These characteristics make these coins easily recognizable and they are usually presumed to be the earliest issue. 
This coin is unconditionally guaranteed to be authentic.