---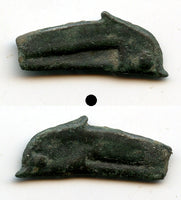 Cast bronze dolphin. Dolphin with raised spine / Similar. 25mm in length, 1.72 grams. SNG BM Black Sea 362; SNG Stancombe 334. SKU T1838-52543.
Dark green and brown patina, extremely nice for these! Only ONE coin is for sale (not two) - the actual coin for sale is scanned on both sides. Unconditionally guaranteed to be authentic.
The earliest Olbian coins were not round, but assumed a shape of a dolphin, an animal of religious importance to the Olbians.