---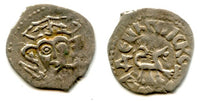 Sale
Crowned Prince Dovmont facing, holding a sword, without any letters or dots in fields / Leopard right, circular legend DENGA PSKOVSKAYA in old Russian, without the dots in fields. 15.5mmx16mm, 0.68 grams. Mint of Pskov. Huletski #3016 AA.
Superb quality and rare, especially this nice.
Daumantas or Dovmont, Christian name Timothy (ca.1240? May 17, 1299), was a Lithuanian princeling best remembered as a military leader of the Pskov Republic between 1266 and 1299. During his term in office, Pskov became de facto independent from Novgorod. He is venerated as a saint in the Orthodox Church with his feast day observed on May 20.
Pskov, known at various times as the Principality of Pskov or the Pskov Republic, was a medieval state on the south shore of Lake Pskov. The capital city, also named Pskov, was located 100 miles (160 km) west-southwest of Great Novgorod. It was originally known as Pleskov, and is now roughly equivalent geographically to the Pskov Oblast of Russia. It was a principality ca. 8621230, after which it was joined to the Novgorod Republic. From 1348, Pleskov became again independent from Novgorod and established an aristocratic oligarchy. Pskov was annexed to the Duchy of Moscow in 1510.