---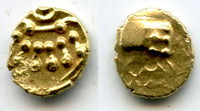 Vira Raya design:
Extremely abstruct lion / Extremely abstruct boar. 7mm, 0.38 grams. Tanjore or another provincial mint in Tanjore Kingdom. Herrli -.
The coin comes from a mixed hoard (?) of gold fanams of unquestionable authenticity and provenance - the hoard contained a mixture of Tanjore "lion" fanams of Sarabhaji I (1711-1727), local imitations of the "lion" fanams from the same period, a few Mughal fanams of Alamgir II, and the crude Vira Raya fanams with the "lion" side struck in style similar to the "Getti" fanams of Tanjore (Herrli 5.07), but with the standard "boar" (simplified into four lines of dots, in most cases) replacing the dagger.
The manufacturing method of these coins also seems very similar to that of the known Tanjore fanams (the "lion" fanam and the "dagger" fanam), they are of the same size (struck on a smaller dumpy flan) and are slightly overweight like other Tanjore fanams and it would seem that these are local coins, produced in the Tanjore Kingdom.
The rare Vira Raya coins of this type are not in Herrli, but are well-known - they are usually attributed to the Southern Pandyas or Nayakas, but I think these dates are too early, and that this type comes from the Marathas, who took Tanjore from the Nayakas in 1674. Still, it is not possible that this type is a late Nayaka issue.