---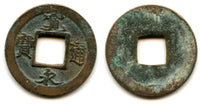 Four characters - Kan Ei Tsu Ho / Blank. 23mm, 2.47 grams. Yoshidajima, Fujisawa, Sagami Province, cast ca.1739-1740's. Hartill 4.181.
Small piece with a large hole, small characters and characteristic calligraphy. Cast from 1739.
Most Japanese coins are very rare. These coins are, however, common - they were inspired by the Ming dynasty cash from China. "Kan Ei Tsu Ho" means "Universal Treasure of Kan Ei".