---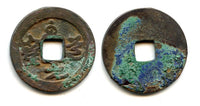 Japanese characters in grass script - Shi Do Gen Ho / Blank. 23.5mm, 3.46 grams. Issued ca.14th-16th century. Hartill (Japan) #2.40.
This type was inspired by the Northern Song dynasty Zhi Dao Yuan Bao cash.
Bita-sen coins was produced for the local circulation, as well as for export and trade to various South-East Asian countries.