---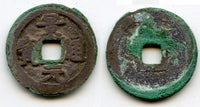 Four Chinese characters - Canh Nguyen Thong Bao (Vietnamese reading) / Blank. 24mm, 3.35 grams. Issued 1381-1382. Toda -; Barker -; Vietnamese coins (2002) #444.
Type with broad rims. Rare.
Rebel Nguyen Ho was a man of low birth who lead a revolt against the central government after the taxes were greatly raised to pay for the frontier wars. Nguyen Ho lead the popular revolt in the Bac-giang province after proclaiming himself King under the name Hi-Nguyan. The government quickly sent troops to pacify the province, and Nguyen disappered from history sometimes in 1382.