---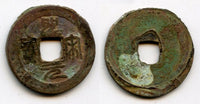 Japanese characters in seal script - Sei So Gen Ho / Blank. 25mm, 3.23 grams. Mint in Kyushu, issued ca.1580-1620. Hartill (Japan) #3.153.
These coins are associated with Kyushu, the most south-western part of the islands of Japan. These are also known as Kajiki-sen, after a village of Kajiki in Osumi province.
This piece, along with a few other very rare Kyushu-sen come from a beautiful collection of rare Japanese coins we recently purchased.