---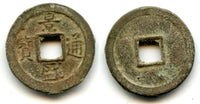 Four Chinese characters - Canh Thinh Thong Bao (Vietnamese reading) / Blank. 24mm, 2.10 grams. Issued 1792-1802. Hartill 25.34; KM #160.1.
These light pieces were cast by the rebels, and not the central government.
After Emperor Quang Trung's death, his son Quang Toan was enthroned as Emperor Canh Thinh at the age of ten. However, the real power was in the hands of his uncle Bui Dac Tuyen, who enacted a massive political purge. Many who served under Quang Trung were executed, while others became discouraged and left the regime, considerably weakening the Tây Son. This paved the way for Nguyen Ánh to capture the entire country within 10 years, with the help of French military adventurers enlisted by French bishop Pigneau de Behaine. In 1800, Nguyen Ánh occupied Quy Nhon citadel. In 1801, he occupied Phú Xuân, forcing Quang Toan to flee to Thang Long. In 1802, Anh besieged Thang Long. Quang Toan escaped, but then was captured and executed, ending the dynasty after 24 years, and the Nguyen, the last imperial dynasty of Vietnam, took over the country in 1802.