---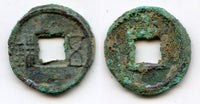 Two large Chinese characters Wu Zhu, no inside rims, outside rim / Blank, inside and outside rims. 28mm, 4.21 grams. Issued ca.115-113 BC. Hartill #-; Gratzer/Fishman type B2.2.
Very large and heavy coin, covered in beautiful thick patina. 
No historical records state that Wu Zhus were cast during Wang Mang's reign. However, there are coins that can be attributed to his reign based on scanty archaeological, hoard, and numismatic (stylistic) basis. Some coins are known from the tombs of Wang Mang's reign containing Wu Zhus or Wu Zhu molds corresponding in shape and size to Daquan Wushi ("value 50" coins cast during Wang Mang's failed monetary reform of AD 9-14). The calligraphy on these Wu Zhus copies the style of Emperor Zhao Di (86-74 BC) and Emperor Xuan Di (74-49 BC). These coins can be distinguished from the originals by their very stout inner rim and large size. 

This coin is unconditionally guaranteed to be authentic.