---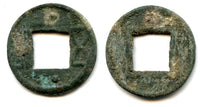 Four Chinese characters Wu Zhu ("5 zhus"), large dot above and below the hole, shallow outside rim, no inside rim / Blank, inside and outside rim. Issued 510 AD. 23.5mm, 2.30 grams. Hartill 10.19; Schjoth 233.
This is a rare type, under-rated in Hartill. The two dots gave it the name "double-pillar" wu zhu. It was intended to be worth 10 ordinary wu zhus.
Emperor Yuan of Liang (508555), personal name Xiao Yi, courtesy name Shicheng, nickname Qifu, was an emperor of the Chinese Liang Dynasty. After his father Emperor Wu and brother Emperor Jianwen were successively taken hostage and controlled by the rebel general Hou Jing, Xiao Yi was largely viewed as the de facto leader of Liang, and after defeating Hou in 552 declared himself emperor.