---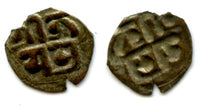 Nagari legend in two lines naming the King: Sri Ja / Ya Pra  / Blank (traces of the incuse obverse inscription). 8mm, 0.05 grams. Kathmandu mint. Krause KM 235.
Minted during his first reign, 1735-1746. Very neat coin, among the smallest general circulation coins in history.
Jaya Prakash Malla (died 1768) was the last king of Yen or Kantipur which corresponds to present day Kathmandu. He ruled from 1735 to 1746, and then from 1750 until his death in 1768. He was very unlucky to have to spend a lot of time fighting other kingdoms of Nepal including Prithvi Narayan Shah in the Battle of Kathmandu .