---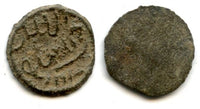 Arabic inscription Al-Sultan Fi Balad Palembang 1113 ("Sultan of the city of Palembang, 1113") / Blank. 13mm, 0.40 grams. Krause -; V.LaHaye/E.Spanier & Fils Lith Du Roi #185-187; cf.Zeno 99334.
Type with an error date 1113 and without the word "sanat", minted 1193 AH (1779 AD). 
Palembang is a city in the Northern area of Sumatra, Indonesia. It was once a Portuguese colony, and later the seat of the Sultanate of Palembang. The coins of Palembang were cast in the fashion of the coins from Melaka. They are all rare and difficult to find.