---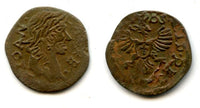 Bust of King right, IOAN CAS REX / Eagle with a cross on shield on the breast, SOLID REG + POLO ("Solidus of the King of Poland"). 15mm, 1.10 grams. NM. KM #110.
Very cool contemporary imitation - made 350+ years ago by counterfeiters! 
John II Casimir (22 March 1609 16 December 1672) was King of Poland and Grand Duke of Lithuania during the era of the PolishLithuanian Commonwealth, Duke of Opole in Upper Silesia, and titular King of Sweden 16481660. In Poland, he is known and commonly referred as Jan Kazimierz. His parents were Sigismund III Vasa (15661632) and Constance of Austria (15881631). His older brother, and predecessor on the throne, was Władysław IV Vasa. Related to the Habsburg rulers of the Holy Roman Empire he was the third and last monarch on the Polish throne from the House of Vasa. He was the last ruler of PolishLithuanian Commonwealth bearing a blood connection to the Jagiellon dynasty, through the female line.