---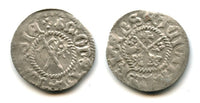 MONETA ECCLESIE, arms of the archibishopric of Riga / ET CIVITAS RIGENS, coat of arms of the city of Riga. 19mm, 1.04 grams. Riga mint. D. Fyodorov "Baltic Coins" #-.
This coin was issued during the long "Sede Vacante" ("empty seat" period) period between the archbishoprics of Silvester Stodewescher and Michel Hildebrand.
The Archbishopric of Riga (Latin: Archiepiscopatus Rigensis, Low German: Erzbisdom Riga) was an archbishopric in Medieval Livonia, a subject to the Holy See. It was established in 1186 as the bishopric of Livonia at Üxküll, then after moving to Riga it became the bishopric of Riga in 1202 and was elevated to an archbishopric in 1255.