---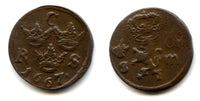 Three crowns under "C", R-S in fields, date below (1667) / Coat of arms of the Vasas under crown, 1/6 / ÖR in fields (for the denomination), S-M below. 26mm, 7.12 grams. Avesta mint. KM #254.
Rare in such high quality.
These coins were crudely minted with a rolling press, resulting in crude coins which are usually struck off-center. They were made of lower quality silver, with the surface enriched in silver to improve its' appearance. Scarce this nice and with a visible date.