---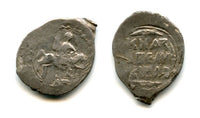 St.George on horseback right, spearing a dragon, all within a double border (dotted and lined) / Cyrillic legend within a dotted border KHAZ/b BEΛH/KI BAC (abbreviated "Grand Duke Vasiliy"). 15mmx11.5mm, 0.59 grams. Moscow mint, struck 1425-1434. Huletsky/Petrunin #437-F.
Very rare "Mozhaisk type", named so after the cartouche on the obverse which was used by the Mozhaisk Dukes. Despite the name, it seems that these coins (and probably the coins of the Mozhaisk Dukes as well) were struck in Moscow.
Vasily II Vasiliyevich Tyomniy (Blind) (10 March 1415 27 March 1462, Moscow) was the Grand Prince of Moscow whose long reign (14251462) was plagued by the greatest civil war of Old Russian history.