---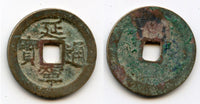 Four Chinese characters - Duyen Ninh Thong Bao (Vietnamese reading) / Blank. 24mm, 3.86 grams. Issued 1454-1459. Hartill 25.14.
The coins of the Vietnamese Kings imitated Chinese coins. The official issues were often heavier than the Chinese coins and with somewhat cruder calligraphy. Many local imitative issues circulated along with the official coins. This large copper coin is an official issue coin.
With the sudden death of the Emperor Lê Thái Tông, his heir was an infant son named Bang Co. Two years later (1453) at the age of twelve, Lê Nhân Tông was formally given the title of Emperor. In 1459, Lê Nhân Tông's older brother, Nghi Dân, plotted with a group of friends to kill the Emperor. On October 28, the plotters with some 100 "shiftless men" entered into the palace and killed the Emperor (he was just 18).