---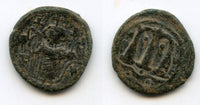 Standing imperial figure, holding long cross and globus cruciger; to left, tall bird standing right; branch to right / Large m containing two stars; wavy lines around. 20mm, 3.39 grams. "Pseudo-Damascus" mint in Northern Jordan or Palestine. Milstein ; Album 3522.
The large output of what is often referred to as the ˜Pseudo-Damascus mint is still in need of thorough study. Rachel Milstein's "A hoard of early Arab figurative coins", INJ 10 (1988/9), provides the best sampling.
These coins are among the earliest coins of the first Islamic Caliphate. Before the more familiar anepigraphic types were issued by the Ummayad, the arab conquerors used a slightly modified Byzantine coinage in the conquered Byzantine lands.