---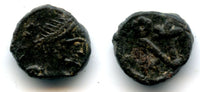 DN A..., Anastasius facing right / Monogram of Anastasius within wreath, no mintmark. 7.5mm, 0.48 grams. Constantinople mint, minted 491-498 AD. DOC I 15; MIB I 40; SB 13.
Sharp portrait, very well struck and preserved, especially for a coin that measures less than 8mm in diameter (this is probably the smallest official issue coin ever struck in the Roman Empire...). The coin itself is much sharper than the scan, please keep in mind how small it is. Scarce, especially this nice.
In 498 AD Anastasius instituted a monetary reform, changing the system completely and breaking with the traditions of Roman coinage. This is the last Roman AE4 issue ever struck.