---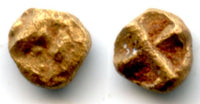 Horse (or goat) head left / Cross design. These are probably the tiniest gold coins ever minted for general circulation. Rare. Tiny coin, 2.5mm, 0.06 grams. MNIS -; Herrlli-.
Rare with such a clear design in this quality.
These come from Southern Indian and are often attributed to Vijayanagar, but the exact provenance of these coins is unknown. The coins are usually crudely struck with a "cross" or "leaf" design on one side and an uncertain crude design on another.