---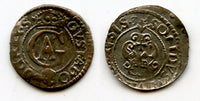 GVSTA ADOL D G REX S Crowned "GA" (for "Gustav Adolph") / SOLIDVS CIVI RIGENSIS 3- 1 (for "1631"), Crowned arms of Riga . 17mm, 0.59 grams. Riga mint. Krause KM #9.
Scarce in such high quality!
Gustav II Adolf (1594 1632); widely known in English by his Latinized name Gustavus Adolphus or as Gustav II Adolph, or as Gustavus Adolphus the Great; was the King of Sweden from 1611 to 1632 and is credited as the founder of Sweden as a Great Power. He led Sweden to military supremacy during the Thirty Years War, helping to determine the political as well as the religious balance of power in Europe.