---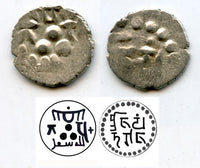 Sale
Silver damma of Shibl, Multan, c.840-860s, Abbasid governors of Multan, among the first Islamic coins in India!
Three dots, stylized Brahmi "Sri" above, Brahmi letters "Ta" and "Pa" in fields, below Lillah Shibl in arabic / Nagari legend SriJaYan / TaRaJa ("Victorious King"). 12mm, 0.58 grams. Fishman/Todd "The Silver Damma" M54.
These coins are derived from the earlier "Sri Tapana" pre-Islamic Multan coins- as the Arab conquered Sindh and parts of Punjab (including Multan) in the early 700s, the continued minting old-style coins, slowing adding Arabic or Islamic elements to the coinage. The coins are fascinating, as some of them give a native Hindu name along with the Arabic name of the ruler - sometimes these Hindu names are derived from the names of various Hindu gods, which is a fascinating evidence of the cosmopolitan nature of the 9th and 10th century Multani society. These "3-dot" coins are the earliest Islamic Indian coins - they were first studied and published only a few years ago, in the Fishman/Todd's catalogue "The Silver Damma".