---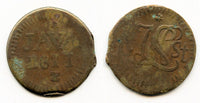 Star above JAVA, date (1811) and mintmark (Z) below / Monogrammed LN (for "Louis Napoleon") dividing the value "1/2 - St", star above. 26mm, 4.91 grams. Krause #228.
This is a very crude local issues - these coins are crudely struck and are usually found corroded and worn. These coins are very rare in such quality.
Louis Napoléon Bonaparte (2 September 1778 25 July 1846), King of Holland (180610), known as Lodewijk Napoleon in Dutch. His brother was the first Emperor of the French, Napoleon I, and his son was the last, Napoleon III. Louis was installed by his brother as King of the Netherlands in 1806, but because of disagreements over a number of issues, Napoleon actually invaded Holland on 1 July 1810, forcing Louis to abdicate the same day in favour of his son, Napoleon Louis Bonaparte, who reigned as Louis II for only eight days before Napoleon annexed Holland to France on 9 July.
In 1596, a four-ship expedition led by Cornelis de Houtman was the first Dutch contact with Java. By the end of the 18th century the Dutch had extended their influence over the sultanates of the interior (see Dutch East India Company in Indonesia). Internal conflict prevented the Javanese from forming effective alliances against the Dutch. Remnants of the Mataram survived as the Surakarta (Solo) and Yogyakarta principalities. Javanese kings claimed to rule with divine authority and the Dutch helped them to preserve remnants of a Javanese aristocracy by confirming them as regents or district officials within the colonial administration.