---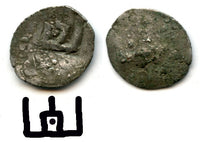 Countermark in shape on Kolyumna's coat of arms with a dot in the middle of the central tower / Traces of the arabic from the undertype of Uzbeq Khan. 14mmx16mm, 0.86 grams. Kiev or Seversk areas (mint of Kiev or Rylsk?), produced ca.1419-1422. Guletsky/Petrunin #2625 var (group I, unlisted with the dot).
These very rare and enigmatic coins were producd by the Lithuanians in modern Ukraine in the early 1420's. The countermark was applied to Jochid Golden Horde coins, modely of Uzbeq Khan. The coins are thought to have arried the value of 1/2 of Prague groschen, and circulated in some areas of the modern Ukraine and Seversk. These coins are very rare in general and high quality coins like this one are extremely rare.
Vytautas "the Great" (ca. 1350 October 27, 1430) was one of the most famous rulers of medieval Lithuania. Vytautas was the ruler (13921430) of the Grand Duchy of Lithuania which chiefly encompassed the Lithuanians and Ruthenians. He was also the Prince of Hrodna (13701382) and the Prince of Lutsk (13871389), postulated king of Hussites. In modern Lithuania, Vytautas is revered as a national hero and was an important figure in the national rebirth in the 19th century. 
Švitrigaila or Switrigailo (before 1370 10 February 1452) (Christened as Boleslav) was the Grand Duke of Lithuania from 1430 to 1432. He spent most of his life in largely unsuccessful dynastic struggles against his cousins Vytautas and Sigismund Kęstutaitis.