---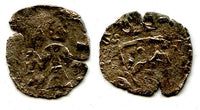 Dan II standing / Tutonic cross within a shield. 13.5mm, 0.38 grams. Severin mint, minted ca.1429-1431. MBR, pag. 30, 31, tip 230-252; Zeno #66538.
This type was attributed by the Hungarian numismatist dr. Rethy Laszlo to Nikolaus Redwitz, ban of Severin during 1429-1435, who was also count of the royal mint in Hermannstadt. The oppinion of dr. Rethy Laszlo was that Mircea the Elder struck in the Severin mint his coins bering the ruler's portrait on obverse and Nikolaus Redwitz used the same design, but using the Teutonic crest instead of the Wallachian eagle. New researches carried by Romanian numismatists led to another oppinion. They proved that the coins were minted by Dan II in the Severin mint.
Dan II (? June 1, 1432) was a voivode (prince) of the principality of Wallachia in the 15th Century, ruling an extraordinary five times, and succeeded four times by Radu II Chelul, his rival for the throne. Of those five periods on the throne of Wallachia (14201421, 14211423, 14231424, 14261427, and 14271431), four were within a period of only seven years.