---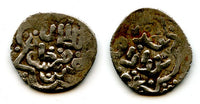 Sale
Al-Sultan Tokhtamish Khan ("Sultan Tokhtamish Khan")  / Zarb balda Azak 782 (=1380 AD). 18mm, 1.39 grams. Mint of Azak. Sagdeyeva (2005) #366.
Rare type, unlisted date and complete inscriptions (the coin listed in Sagdeyeva has an incomplete obverse inscription and dated only to 781).
Tokhtamysh was the prominent khan of the White Horde, who briefly unified the White Horde and Blue Horde subdivisions of the Golden Horde into a single state.