---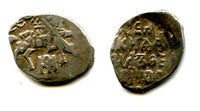 Horse and rider, monogrammed MO (for "Moscow") below / Crude cyrillic inscriptions in 5 lines: "TSAR I VELIKIY KNYAZ MICHAIL FYODOROVICH VSEYA RUSI" ("Tsar and Grand Duke Michail Fyodorovich of All Russia"). 13mmx10mm, 0.43 grams. Imitating Moscow mint. Grishin group XVI, very similar to #900.
During the reign of Michail Fyodorovich a number of foreign powers (Sween, Netherlands and Denmark) minted imitation of Russian kopeks for various reasons. Private illicit coinage was also produced. Various private companies and even the mints minted coins either illicitely or semi-officially. This issue belongs to Grishin group XVI, and is very similar to #900, though this exact type is not listed. Very interesting and rare coin!
Michael I of Russia (Russian: Михаи́л ФёдоÑович Рома́нов, Mikhail Fyodorovich Romanov) (12 July 1596 12 July 1645) was the first Russian Tsar of the house of Romanov. He was the son of Feodor Nikitich Romanov (later known as Patriarch Filaret) and Xenia (later known as "the great nun" Martha). His reign marked the end of the Time of Troubles.