---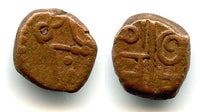 Stylized deity, number 8 (or 8-shaped symbol) / Nagari inscriptions. Karikal mint. 11mm in diameter, 1.21 grams. Pondicherry mint. Krause C#11.
Rare, listed in Krause "South Asian coins" (1981) at 60$ in VF.
The French East India Company set up a trading centre at Pondicherry in 1674. This outpost eventually became the chief French settlement in India. Dutch and British trading companies also wanted trade with India. Wars raged between these European countries and spilled over into the Indian subcontinent. The Dutch captured Puducherry in 1693 but returned it to France by the Treaty of Ryswick in 1699 - this issue bearing the symbols the Dutch used on their fanams, as struck during this occupation of Pondicherry.