---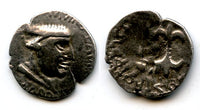 Bust of Nahapana right with collar showing, wearing a satrapal cap, corrupt Greek inscription: PANNIW SAHAPATAC NAHAPANAC / Arrow pointing downwards to the left, thunderbolt to the right, dot between them, two inscriptions one in Brahmi (RaJno KsaHaRaTaSa NaHaPaNaSa, reading left to right) and one in Kharoshti (RaNo KsaHaRaTaSa NaHaPaNaSa, reading right to left). 16mm, 2.18 grams. Rare this nice! Senior #3; Fishman "The Silver coinage of the Western Kshatrapas" #3; Jha/Rajgor #1ff.
If you are interested in this coinage, please check the brand new, very detailed and easy-to-use catalogue dealing with this coinage "The Silver Coinage of the Western Satraps in India": http://www.numismall.com/acc/Two-books-on-Western-Kshatrapa-coinage-as-one-lot.html
The Kshaharatas were the descendants of Parata Rajas of Saurashtrara. They became independent in 78 AD, the 1st year of the Saka Era. The dates of Nahapanas reign are still unclear his reign is dated anywhere between ca.50 AD and 124 AD. Many of Nahapana's coins are overstruck by Gautamiputra Satakarni of the Satavahanas (ca.106-130 AD), who reigned for 24 years and claimed to have destroyed Nahapana in his 18th year. Nahapana has inscriptional dates 41-46; it's not clear whether these are regnal dates or dates in the Saka Era (or some other era). There are coins from Sind of Satavastres overstruck by Nahapana and coins of Nahapana overstruck by Satavastres; they were probably contemporaries. Sases(Gondophares-Sases) also overstruck Nahapana's coinage in Sind.