---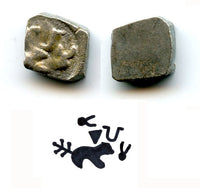 One large punch-mark on obverse, depicting an animal standing right, surrounded by a number of minor symbols / blank. 8x9mm, thick, 1.69 grams. Rajgor -; MACW -.
This particular type was not known until recently - it is still not published anywhere. Very rare coin!
Surasena was one of the sixteen original Mahajanapadas of the Buddhist chronicles. The name of that country is derived for the name of Sura, the King of Surasena and the father of Vasudeva and Kunti. The location is at Braj, the region around Mathura in Uttar Pradesh. The history of this Janapada is is very obscure - the ruling family is known to have styled itself "Yadava" family, and that some of their kings were cloely related to the royal family of Avanti. Around 350 AD Surasena was conquered by Mahapadma Nana of Magadha.