---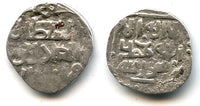 Al-Sultan al-adil Tokhtamish Khan ("The Just Sultan Tokhtamish Khan") within a decorated scallopped border / Islamic profession of faithwithin a simple square surrounded by a square dotted border. 15mm, 1.30 grams. Mintless and dateless type, probably a late issue. Sagdeeva (2005) #452 var. (different decorations and borders).
This type is closely related to the mintless and dateless type listed as Sagdeyeva #452, but it is smaller and omits the decorated multifoil enclosing the reverse inscriptions. This type is not listed in Sagdeyeva, but it was likely minted sometimes towards the end of the reign of Tokhtamysh.
Tokhtamysh was the prominent khan of the White Horde, who briefly unified the White Horde and Blue Horde subdivisions of the Golden Horde into a single state.