---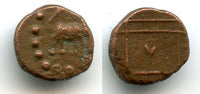 Elephant standing RIGHT within a dotted border / Crossed lines and a dot. 11mm, 1.31 grams. Uncertain mint in Mysore. KM #148.
Coins with the elephant standing right are scarcer than the ones with the elephant standing left.
This coin is a part of a large issue of various anonymous bronze kasus produced in the 18th century (and probably earlier) at various mints around Mysore. These coins are poorly studied and understood.