---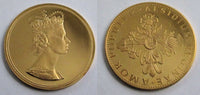 Bust of Eilizabeth ii wearing the imperial state crown right / Foliate ornamental cross with three termini ending respectively in the national flowers of a spray of irish shamrocks, an English Tudor rose and a Scottish thistle, centrol circle with roman numeral "3", "980" and the word "dukaten"; latin encircling legend Amor Populi Praesidium Reginae ("the love of the people is the queen's protection").
The queen's official state visit to west germany took place may 18th to the 28th, 1965. she visited Bonn, West Berlin, Munich and Hamburg. Large gold coin, measuring 30mm in diameter, contains 10.4 grams of 0.980 fine gold (o.33 oz agw).
The coin is proof and in a beautiful condition (as seen on the picture above), but the coin has some very light almost invisible scratches on obverse.