---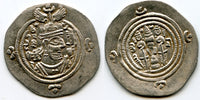 Crowned bust of Khushru II right, HARAMAN AZFUT in script in the left field, KHUSHRUI in script in the right field / Fire altar and two attendants, regnal year (year 33 = 622 AD) and mint ("GN" = Gondishapuhr mint in Khuzastan. Large silver coin, measuring 31.5mm, 4.09 grams. MACW 1111ff.
Struck on a large flan, beautiful condition!
Ex-CNG; Ex.Garth R. Drewry Collection.