---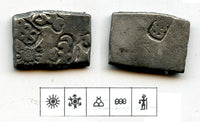 Five different punchmarks, including an Ashokan symbol, helmeted soldier holding a small shield and a spear // Single punchmark (Ashokan symbol). 16mmx11mm, 3.04 grams. Ujjain or Vidisha mint (or another mint in Malwa). Gupta/Hardaker 613.
The debased silver coins depicting Ashoka's symbol both on obverse and the reverse were based on older Ashokan design (G/H #566). Based on archaeological evidence they were probably minted in Ujjain or Vidisha in Malwa (which was under Sunga control at the time) sometimes early in the Sunga period. The weight of these coins was much more diverse compared to the Mauryan standard of 3.4 grams, the coins were struck on roughly cut rectangular flans and the symbols were crude. It is also possible it is a regional type of Ashoka, struck in Ujjain in the third century BC, because it seems strange that the Sungas would adopt Ashokan symbol on this type and copy the hundred years old type of Ashoka so precisely.
The Sunga (Shunga) Empire was an ancient Indian dynasty from Magadha that controlled areas of the central and eastern Indian subcontinent from around 185 to 73 BCE. The dynasty was established by Pushyamitra, after taking the throne of the Maurya Empire. Its capital was Pataliputra, but later emperors such as Bhagabhadra also held court at Besnagar (modern Vidisha) in eastern Malwa.