---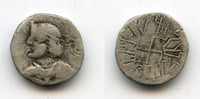 Diademed, crowned bust left, dotted border / Swastika right, Kharoshthi legend around:
Kozanasa Bagavharnaputrasa Pāratarājasa (Of Kozana son of Bagavharna, Pārata King). 11mm, 1.11 grams. Pankaj Tandon (NC 2009) #1.6.
Reduced weight issue. Rare, especially this nice.
Pāradarājas was a dynasty of Indo-Parthian kings in the territory of modern-day western Pakistan from circa 125 CE to circa 300 CE.