---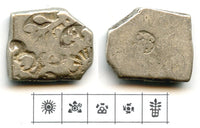 Five punch-mark symbols / Small banker's mark. Irregular flat silver planchet, 16mmx13mm, 3.43 grams. Series G/H V I A 15.
Extremely rare, rated XR in Gupta/Hardaker.
Chandragupta Maurya (350-295 BCE) was a ruler of Iron Age South Asia who expanded a geographically-extensive kingdom based in Magadha and founded the Maurya dynasty. He reigned from 320 BCE to 298 BCE. The Maurya kingdom expanded to become an empire that reached its peak under the reign of his grandson, Asoka, from 268 BCE to 231 BCE.