---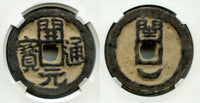 Kai Yuan Tong Bao / Min and crescent. 39mm, 16.5 grams. Mint of Fuzhou in Fujian (?), cast 922-925. Hartill 15.50 (rated R4).
Slabbed, authenticated and graded 80 (EF) by ZDGS grading company.
Superb example, very rare and popular, especially this nice! 
Min Kingdom was one of the Ten Kingdoms which was in existence between the years of 909 and 945, in the Five Dynasties and Ten Kingdoms Period. The capital of the Min Kingdom was Changle, now known as Fuzhou. The kingdom was essentially limited to modern-day Fujian Province in China's southeast. In 945 the Southern Tang marched in and incorporated the Min Kingdom into its holdings in 945.